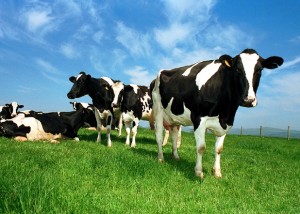 2015 is the last year that the EU will have a quota on milk production (expires 1 April 2015). This means after that there will be no restrictions on increasing milk production. Currently if farmers produce over their milk quota they pay a penalty of 28 EUR/100 kg. In countries like the Netherlands the current high milk price means farmers are producing above quota and willingly paying this penalty.
EC's quarterly agricultural outlook shows that the number of EU dairy cows increased significantly in 2013. The 2013 increase was greatest in the Netherlands (+3.6%), Spain (+3.6%), Ireland (+2.1%), Germany (+1.8%) and France (+1.5%).
Should New Zealand dairy farmers  fear surging European Union milk production where there are 22.8 million dairy cows compared to less than 5 million in New Zealand.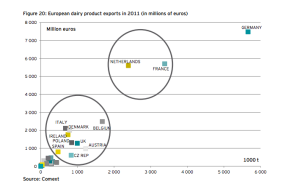 The reality is that most of the European Union milk production is consumed internally. Even so the European Union (EU) remains the one of the world's major dairy exporters accounting for about 32 per cent of all export sales on a milk equivalent basis. Most of this comes from three countries, Germany, the Netherlands and France (see Figure 20).
The good news for New Zealand is that most of this is exported as Cheese. The European dairy industry is set up mainly to produce fresh milk and cheese, producing about 40% of total world cheese production. This means most of the increase in European production will go into cheese exports
Although  only producing 3 per cent of world milk output, New Zealand is the second largest supplier of manufactured products to the world market with a 32 per cent share. However the largest share of this goes as whole milk powder. Cheese exports represent only about 15 % of New Zealand exports.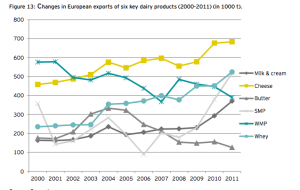 So there may be a significant increase in production from the European Union, stimulated by high prices and the removal of quota, however this is most likely to affect cheese and skim milk powder exports. Figure 13 shows the changes in European dairy product exports and it can be seen there is significant growth in skim milk powder and cheese.
The removal of quotas in 2015 is likely to result in a decrease in small farms and an increase in larger operations in countries like Germany and the Netherlands. The long term effect is that the European Union is likely to become a stronger competitor on the international market as the industry in these countries become more competitive and able to respond to market signals.
In the long term New Zealand must remember that it is a small player in the overall dairy production market. Small changes in production and exports in the European Union or the US can have big impacts on the small percentage  of dairy products that are traded (About 7 per cent of global milk production is traded in international markets each year). Small changes in demand for imports from countries like China can also impact significantly on dairy prices. The one thing that is for sure is that record dairy prices won't last for ever. High prices will stimulate an increase in production from the most efficient producers until prices reach a new equilibrium. In the long term New Zealand will still have to be innovative in production and marketing to maintain its competitive advantage in the brave new word post EU quotas.
The full Ernst and Young Report : Analysis on future developments in the milk sector Prepared for the European Commission – DG Agriculture and Rural Development. Is available on the resources section of this site click here