Funded Research Projects
Positioning New Zealand beef at the premium end of international markets and delivering long-term economic benefits are the key goals of a PGP programme producing highly marbled grass-fed beef from Wagyu-cross animals.
Much of New Zealand's beef is lean and destined for use in burgers and small goods. Internationally, high-quality beef is predominantly produced from cattle housed in feedlots and fed corn and other grains. Consumer demand provides an opportunity for grass-fed, free-range, high-quality beef to be positioned in niche markets.
This PGP programme will develop an integrated value chain for high-value, marbled beef that is internationally recognised for its superior eating qualities.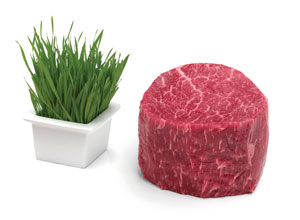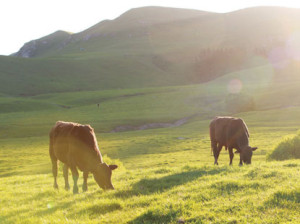 __________________________________________________________________
Maximising Export Returns for New Zealand's Biological Industries

Credence attributes are believed by a consumer to be present in a product even though they aren't directly observed with purchase. Examples include food safety, animal welfare, environmental protection and cultural authenticity.
The research will identify credence attributes of major export products in China, India, Indonesia, Singapore and the United Kingdom. The research data will allow these attributes to be validated, tested and tailored to different customer values in different countries. Results delivered to decision-makers will improve New Zealand industries' understanding of international consumers. This will inform market development decisions to maximise returns from exported products.
The research team is built on expertise in the AERU at Lincoln University, led by Prof Caroline Saunders, Prof Paul Dalziel, Dr Peter Tait and Nic Lees.
The research is being overseen by a Steering Group that includes representation from Beef and Lamb, DairyNZ, Export NZ, HortNZ, MBIE, MFAT, NZTE, NZ Wine Growers, Sustainable Business Council, Tuhoe Tuawhenua Trust, Wood Processors Association and ZESPRI.
The research will deliver benefits to Maori through Dr John Reid (a Ngai Tahu researcher) and Brenda Tahi (from the Tuhoe Tuawhenua Trust) on the Steering Group and through events hosted at the Ngai Tahu Research Centre at the University of Canterbury.
The research will deliver new knowledge to firms in New Zealand's largest biological industries on how to capture sizeable price premiums for their primary sector exports through using credence attributes tailored for key international markets. A successful conclusion will lead to increased export returns in the region of $1.5 billion per annum by 2026
Introduction
The AERU at Lincoln University has received funding from the Ministry of Business, Innovation and Employment to undertake a three year research programme to help New Zealand's biological industries maximise their export returns. The specific focus of our research is on credence attributes, which are qualities believed by a consumer to be present in a product even though they are directly observed with purchase. Examples include food safety, animal welfare, environmental protection and cultural authenticity.
Three Research Themes
The project has three integrated research themes:
Valuing credence attributes in key international markets
Enhancing producer returns using credence attributes
Communicating credence attributes to international consumers
The focus of the research is on five key international markets:
United Kingdom (acting as a baseline)
China
India
Indonesia
Singapore
It may be possible to add further markets in the future, but our research contract with MBIE specifies this initial list. China, India, Indonesia and Singapore have strategic importance for New Zealand producers while our long association with the United Kingdom makes that country a good standard for comparisons with Asian markets
Valuing Credence Attributes
The first research theme is focusing on two pieces of work. The first is a detailed international literature review on credence attributes. This will produce a report that will be made available later this year on our dedicated website at www.lincoln.ac.nz/AERU/MER/. The second piece of work is a case study in Asia. The research team has chosen Singapore for this case study. Professor Caroline Saunders and Dr Cerasela Stancu will travel to that country in April to interview key people about interpretations of credence attributes in different market segments throughout Asia.
Enhancing Producer Returns
The main tool that will be used for evaluating the returns for New Zealand producers under different scenarios is the Lincoln Trade and Environment Model (LTEM). LTEM is a multi-country, multi-commodity model developed to analyse the impact of agricultural domestic and trade policies and to quantify linkages between the agricultural sector and the environment. In order to apply that model to this project, LTEM needs to be extended in three dimensions: (1) Indonesia and Singapore need to be included among the countries separately; (2) wine needs to be included as a commodity; and (3) markets need to be segmented by credence attributes. The AERU research team is making good progress on these extensions.
Communicating Credence Attributes
The third research theme is being led for the first year by Nic Lees. It aims to determine how to effectively communicate to consumers the credence attributes identified in the first theme, in order to realise the potential enhanced returns in different markets analysed in the second theme. This will include the content (key messages) and delivery technologies that can best communicate tailored attributes to consumers in different international markets. The research team is completing an international literature review on this topic and Nic Lees has designed an interview guide as he prepares to meet with key gatekeepers in the United Kingdom and with key exporters in New Zealand.