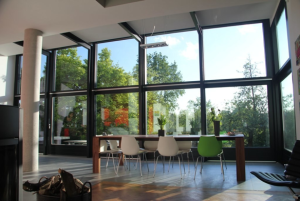 Staying in a 100 year old Bed and Breakfast in Brussels (Le Verger) with Sarah, Olivier and their 3 children gives me the opportunity for some informal research interviews. Interestingly Sarah runs a local food co-op, collecting food from a local farm and delivering it to other families in Brussels.
As I sit down to have my Belgian breakfast of croissants, coffee, cheese, prosciutto and yoghurt, my host Olivier asks me about what I am doing here. After explaining about the research project, he soon tells me that New Zealand has a problem because of the distance of transport.  New Zealand is so far away how can sending our food to Europe be sustainable? I explain how the sea freight only makes up a small proportion of the carbon footprint and that the production and road transport make up the biggest share. He seems to understand and mentions the latest National Geographic article on food that comments that "local food" is not that sustainable because it can not be scaled to feed the world.
I ask him what New Zealand food products he is aware of in Belgium. He had to think hard for a while then says of course there is wine in the supermarket, white wine and also can be found in the wine specialty stores. He knows about Zespri kiwi's because it happens the business he works for uses the same marketing and communications company as Zespri. Because of this he knew quite a lot about Zespri even about the problems with PSA disease.
Apart form that he can't think of much though he then remembers lamb sold at Easter "Le Gigot d'Agneau Pascal". All the supermarkets had it
for sale and it was so cheap. Everyone new it was New Zealand lamb though it wast specifically advertised as such. The Easter lamb is traditional so the supermarkets sell it below cost (loss leader) as a way to attract customer so they can make their money on the wine, vegetables and other food they buy. They had contacted a specialist butcher to see if they could get some lamb but he said he couldn't compete because of the low price the supermarkets were offering.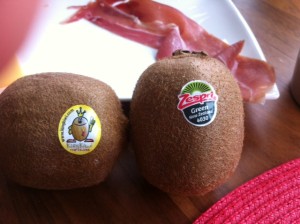 Interesting start to the research, it seems NZ wine had the strongest brand presence followed by Zespri "Kiwi" fruit. This is further confirmed as I reach for the fruit bowl and selected Zespri branded "kiwi" to finish my breakfast. Notice the difference in quality between the New Zealand Zespri and the Italian KingKiwi fruit